"GF RAMEN LAB" kicks off to cater to gluten-free dietary needs!
Introducing "GF RAMEN LAB" for a gluten-free (GF) lifestyle!
The term "gluten-free" refers to a dietary lifestyle that avoids consuming foods containing gluten. It has been adopted as a therapeutic approach to address "celiac disease," an inherited autoimmune disorder characterized by an abnormal reaction to gluten. Nowadays, the gluten-free dietary style is embraced not only by individuals with celiac disease or wheat allergies but also by those who strive for a personalized dietary lifestyle that suits their own bodies. For instance, a globally renowned tennis player garnered attention when they published a book stating that their health improved after adopting a gluten-free diet based on diagnoses through blood tests, revealing their intolerance to wheat and dairy products. This increased awareness has led individuals who similarly experience discomfort with gluten to practice gluten-free diets or reduce gluten intake, with expectations of improving their overall well-being, such as addressing constipation, diarrhea, enhancing gut health, improving skin conditions like acne and skin irritations, as well as alleviating general symptoms like fatigue and malaise.
In light of this, our focus has been on Japan's renowned culinary culture, "ramen." Particularly, we have developed gluten-free noodles that are dedicated to pursuing deliciousness. These noodles are made from rice flour. You might think, "Isn't that similar to rice vermicelli?" However, once you taste it, you'll notice a distinct difference. The secret lies in the incorporation of "kansui" into the rice flour dough. We have successfully developed gluten-free noodles that impart the unique texture and flavor characteristic of ramen.
The manufacturing process takes place in our own factory where no wheat flour is used. While gluten-free labeling standards vary by country, the common international standard※1 for gluten-free labeling specifies that the gluten content per 1kg of food should be 20mg or less, which is equivalent to 20ppm (0.002%) or less. Furthermore, the Gluten-Free Certification Organization (GFCO)※2 in the United States has established a stricter standard, setting the gluten content threshold at 10ppm or less. At "GF RAMEN LAB," we adhere to the GFCO standard and label our products as having a gluten content of "10ppm or less," while internally setting an even stricter management standard of gluten content "less than 2ppm" for the production of gluten-free noodles and other products.

※1 Target countries : United States, European Union
※2 GFCO Official Website : http://www.gfco.org/

Triggered by our expansion into Hawaii in 2014, we ventured to the mainland United States in 2016. In April 2018, we opened "Tsurumen Davis" in Boston. While operating ramen shops in America, we frequently receive inquiries from customers asking, "Do you have gluten-free (GF) options?" It made us wonder why it was not common in Japan. Upon investigation, we discovered that there is a higher prevalence of individuals with celiac disease.
As someone who believes that delicious food brings happiness, I strongly felt the need to create gluten-free ramen. Therefore, in collaboration with "Kenmin Foods," renowned for their 100% rice vermicelli, I established "GF RAMEN LAB" in order to develop products specializing in gluten-free ramen.
At GF RAMEN LAB, we combine the expertise of Kenmin Foods with my passion for creating happiness through ramen. By using 100% rice vermicelli and incorporating gluten-free ingredients, we are dedicated to crafting exceptional gluten-free ramen that maintains the authentic flavors and textures cherished by ramen lovers.
Our aim is to provide a satisfying and inclusive dining experience, catering to the needs of gluten-sensitive individuals, while ensuring the highest standards of taste and quality. With GF RAMEN LAB, we strive to bring the joy of gluten-free ramen to a wider audience and make a positive impact on the culinary world.
More
Straight Ramen Noodles with
Excellent Texture
and Harmonious
Blend with Ramen Broth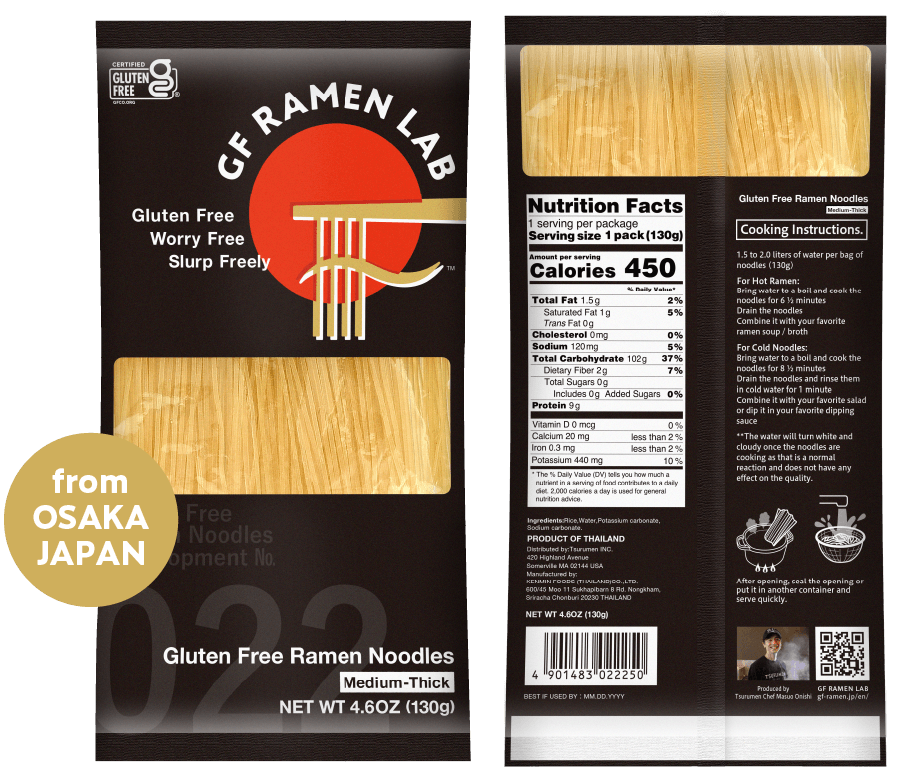 Medium-Thick
NET WT 4.6OZ (130g)
These Ramen noodles are made from rice without any wheat. They possess a unique texture, being both chewy and smooth, characteristic of rice-based noodles.
Enjoy it as a hot or cold menu
option of your choice!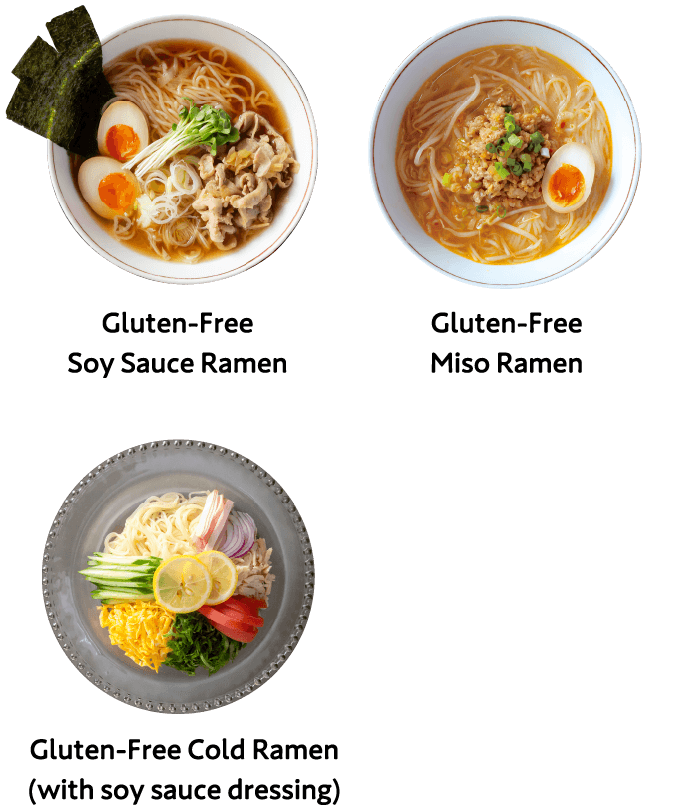 STORE
FAQ
Q.What is gluten-free?
A.Gluten is a type of protein found in wheat, barley, rye, and other grains.
In the case of wheat, gluten is formed by the combination of two proteins called glutenin and gliadin.
When water is added to wheat flour and kneaded, these two proteins bind together to create a sticky and elastic network structure.
This property is used to make various foods such as bread, cakes, pizza, pasta, and pastries.
Q.Can people with celiac disease eat gluten-free ramen?
A.The symptoms may vary from person to person, so please consult your regular physician.
Our products strictly adhere to the GFCO standards, guaranteeing a gluten content of 10 ppm (parts per million) or less.
We maintain strict internal standards to ensure this.
Q.What is GFCO?
A.GFCO (Gluten-Free Certification Organization) is a certification body for gluten-free foods developed by a group of gluten intolerance organizations in the United States.
GFCO certification operates under rigorous criteria and provides assurance of gluten-free safety for consumers with celiac disease or gluten intolerance※ worldwide.
As a result, the GFCO certification mark is internationally trusted by consumers.
※Gluten intolerance: It refers to a condition where there is a weakened ability to metabolize gluten.
Q.Where are the products manufactured?
A.The noodles are produced at Kenmin Foods (Thailand) Co., Ltd., which is Kenmin Foods' own rice vermicelli factory located in Thailand.
The frozen soup and set packaging are manufactured at Fujikenmin Foods, a dedicated gluten-free frozen food factory in Shizuoka, Japan.
Q.Is the soup also gluten-free?
A.Yes, we use gluten-free rice soy sauce and do not use any wheat in other ingredients.
The ramen soup is prepared to enhance the rich flavor of chicken broth without the use of wheat, resulting in a deep and flavorful broth.
Q.How long is the expiration date?
A.The noodles are 24 months from the date of production.